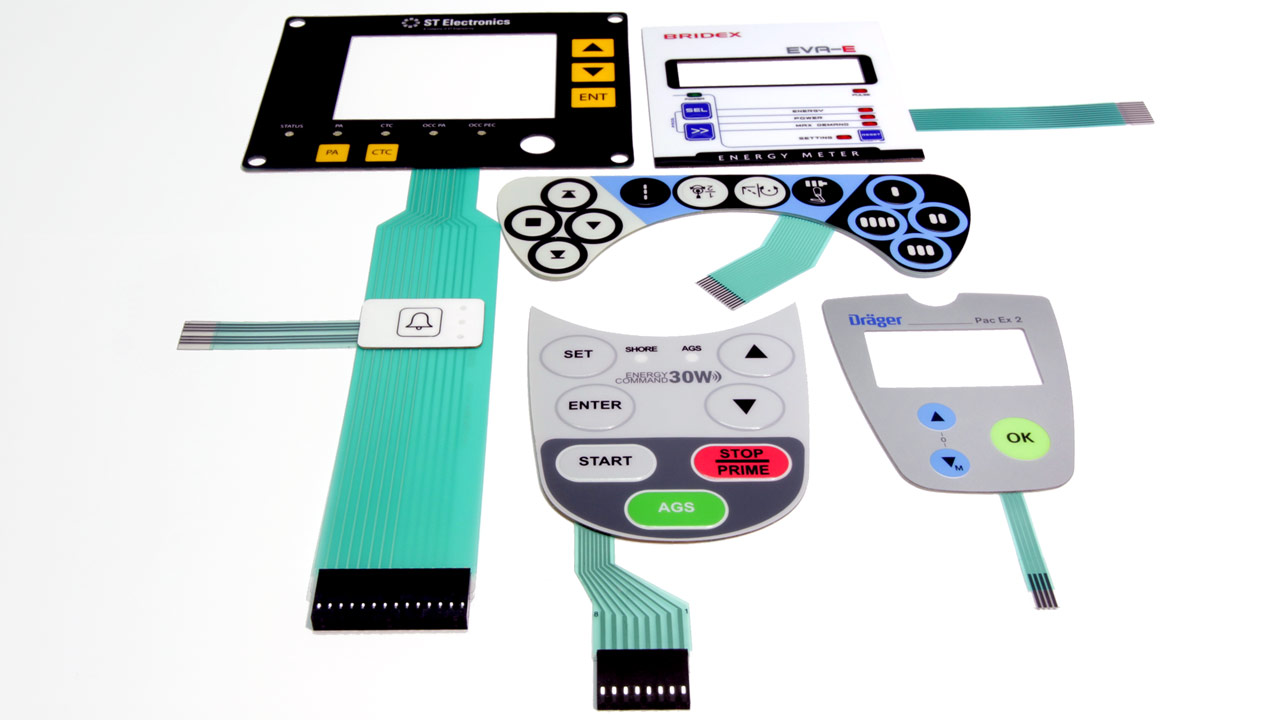 Membrane switches are printed circuits made by printing conductive ink onto thin plastic sheets. They are typically used as momentary on/off contact switches. Membrane switches are used in many different types of user interfaces, such as in microwave button panels or flexible keyboards.
Membrane switches operate like normal switches; by touching two contact points together, the switch is turned "on". However, unlike some mechanical switches, membrane switches are purely momentary switches. They only stay "on" when depressed. In membrane switches, metal domes or printed shorting pads are usually used to short printed traces together to activate the switch when pressed.
Features and Benefits of Membrane Switches
Thin, flat, and unobtrusive
Membrane switches take up very little design space and can fit in interfaces where space constraint is an issue.
Hygienic and easy to clean
There are no gaps or moving parts that could trap contaminants, making them easily to clean and highly appropriate for applications where cleanliness is a concern.
Easily integrated into larger interfaces
Membrane switches simply operate as-is, without the need for additional complicated electronics, making them very compatible.
Durable, robust, and able to withstand harsh conditions
Membrane switches can easily be designed to be sealed and shielded from moisture, UV, and ESD/EMI & RFI interference.
Affordable and cost-effective
With their simplicity of design and ease of production, membrane switches are much cheaper than comparative alternatives such as touch screen interfaces.
Highly customisable
Almost everything can be customised in a membrane switch. The graphic overlay can be printed with custom graphics, while the tactile feedback can be adjusted by choosing different metal domes. There is also a wide array of options for backlighting, shielding, and structural backing as well.
Design Options
FPC is able to provide and customise the following design features to suit your unique application:
Tactile Feedback
Tactile feedback, achievable through the use of metal domes or embossed polydomes, makes it easy for the user to tell when the switch is activated. Whether you need a low press force with a crisp feel for a medical product or a high press force with an audible "click" sound for industrial use, FPC is able to customise the switch feel to your requirements.
Built-in Backlighting
For additional visual feedback, FPC is able to attach surface-mount LEDs to silver-flex, copper-flex and PCB circuits. In addition to point lighting, distributed lighting is also possible. Entire words and icons can be illuminated using light-guides.
Waterproofing Gaskets
Through the use of internal gaskets, FPC is able to manufacture water-resistant membrane switches that are able to achieve up to IP65 rating.
Integrated Shielding
FPC is able to integrate metal foil or printed conductive EMI/ESD/RFI shielding directly into your membrane switch design.
Multiple Tail Termination Options
Whether you need to connect your switch to a LIF/ZIF connector or require a 2.54mm pitch crimped connector, FPC is able to build according to your needs.
 Specifications 
Mechanical
 
Non-Tactile
Polydome
Metal Dome
Actuation Force
110 – 450g
220 – 680g
240 – 550g
Switch Travel
0.13 – 0.25mm
0.5 – 0.8mm
0.35 – 0.60mm
Switch Life
>3 million
>1 million
>1 million
Emboss Height
=0.5mm
=0.5mm
=0.5mm
Emboss Spacing
>4mm
>4mm
>4mm
Contact Surface
Customer Specification
Silver, Carbon
Silver, Carbon
 
 
Flexible Printed Circuit: Copper
Flexible Printed Circuit: Copper
 
 
PCB: Tin/Lead, Carbon, Nickel or Gold-plated
PCB: Tin/Lead, Carbon, Nickel or Gold-plated
 
 
 
Metal Dome: Nickel or Gold Plated
Electrical
Contact Configuration
SPST Normally Open
Maximum Operating Voltage
30V DC
Maximum Operating Current
100mA
LED Operating Voltage
1.9 – 4.0 VDC
LED Operating Current
20W – 500W
Contact Bounce
<6ms
Closed Loop Resistance
<100Ω
Insulation Resistance
100kΩ (with crossover design)
 
10MΩ (without crossover design)
Environmental
Operating Temperature
-20°C to +70°C (Polydome: 0°C to +50°C)
Storage Temperature
-40°C to +80°C (Polydome: -30°C to +60°C)
Operating Humidity
90% RH
Storage Humidity
90%RH